I – me – that is myself – finished an actual, honest to God piece of lace.  Me.  I knitted it!  And…here it is:
It is the four hour scarf from 'Last Minute Knitted Gifts' by Joelle Hoverson of Purl SOHO.  Ain't it purdy?!  Now I get to make three more because stupid me thought it took a crapload more yarn than it did to make it and I have one and a half skeins of mohair left over.  Hmmm…I wonder what everyone's getting as gifts this year…? :o)
I'm jessalu on Ravelry.
My blogroll has grown too large to list on my front page in its entirety. If you'd like to see the rest of the blogs I read you can visit my blogroll page
Anything purchased through this Amazon link will pay a percentage to me - thanks!


Interested in getting shop updates via email? Subscribe to the newsletter!
You can also find me on Instagram here: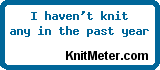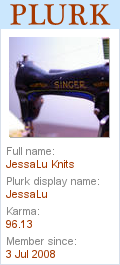 Font for my Signature provided by Jennifer D.
visitors since February 2005
<<
>>

Previous |? |Next