HI this is actually heather and i'm being the guest blogger…YAY!
Mi madre is doing awesomely swell. She's right now eating ice cream and just having a ball!!
She says that there is throbbing pain in her jaw…now doesn't that sound so fun?…haha
But the dentist has given her codeine.
So she thinks that she's gunna live….
Now thank you all for all your concerns she thanks you a lot!!
I'm jessalu on Ravelry.
My blogroll has grown too large to list on my front page in its entirety. If you'd like to see the rest of the blogs I read you can visit my blogroll page
Anything purchased through this Amazon link will pay a percentage to me - thanks!


Interested in getting shop updates via email? Subscribe to the newsletter!
You can also find me on Instagram here: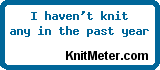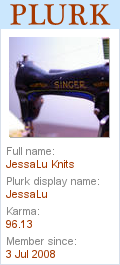 Font for my Signature provided by Jennifer D.
visitors since February 2005
<<
>>

Previous |? |Next