February 13th, 2006 | Author:
JessaLu
Roger is going to NYC tomorrow to replace a component in the system he installed a couple of weeks ago and guess what? I have the day off so I'll be going with him ;o) I'm hoping to be at The Point somewhere near 1pm in case anyone is in the City and wants to meet up. (Carole, if you read this early enough you might be able to get here in time to go with us ;o) We'll wait for you!)
He is worried about the snow and the trip might be canceled tomorrow morning – if that is the case I'll post here.
As for an Olympic update – imagine two inches of grey added to the picture I posted last night ;o)
I'm jessalu on Ravelry.
My blogroll has grown too large to list on my front page in its entirety. If you'd like to see the rest of the blogs I read you can visit my blogroll page
Anything purchased through this Amazon link will pay a percentage to me - thanks!


Interested in getting shop updates via email? Subscribe to the newsletter!
You can also find me on Instagram here: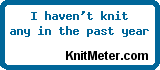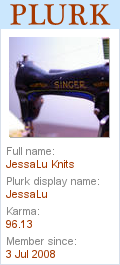 Font for my Signature provided by Jennifer D.
visitors since February 2005
<<
>>

Previous |? |Next